Once again, my friend Alison has an idea that has captured me enough that I want to join in too. She has a little project going called #48walks – you can see all about it here – and for me it has become such an intriguing way to think about things.
Where am I walking to next?
It's made me think about things I want to walk into this year, both literally and metaphorically. It's made me think of the places, people, experiences, that I know are in my path, and wonder what's ahead that I can't see yet.
And sometimes, it even makes me choose to put on my shoes and walk somewhere.
Crazy, right? Like this past Monday, when the combination of school holiday and suddenly warm weather were too much to resist and the kids & I loaded up with good friends and headed right out of town.
Gulpha Gorge
We stopped on the way into Hot Springs at Gulpha Gorge, such a lovely little campground right off the highway next to this beautiful stream. When we pulled over, the car full of teenagers all wanted to know whyyyyy we were stoppingggggg, but then the water and rocks and trees worked their magic.
I love that magic. All the reflections and color and hushing rustled sound. My so-tall boy wandering off to skip rocks.
There's actually a trail from this campground up and over the hill and right into downtown. We opted for the car – maybe that will be a walk for another day.
Downtown Hot Springs
The rest of our day was spent wandering Central Avenue – one of those streets I've walked a hundred times but never tire of. I love seeing my festive favorite, Rolando's – a place that proves my theory that Christmas lights all year long is a great thing.
And the Savory Pantry, where I am just as enchanted by the labels as I am by the many yummy samples they have out. Plus I adore seeing my name on the shelf!
We found that one of our favorite shops, Bathhouse Soapery, had moved down the street to a larger space. Same wonderful products, now with new sparkly chandeliers! I approve.
I thought I was going to lose my daughter to this store for good.
All this under blue skies, beautiful buildings lining our view…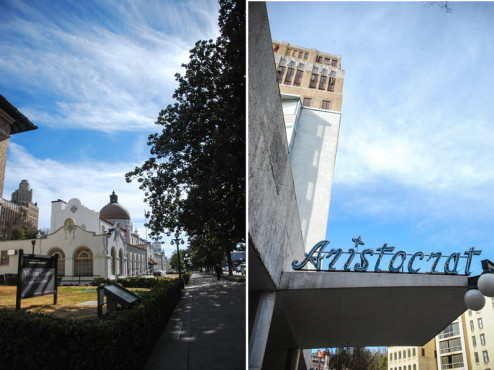 It was a wonderful day for a walk. I can't wait to see where we end up next!
It surprised me to realize, as I was writing this, that I've claimed 4 walks already: one around Central High School, into a new adventure with Listen To Your Mother, playing in the snow one night with my boys, and now this. I'm thinking maybe I need to start a list; who knows, we might actually get to 48!