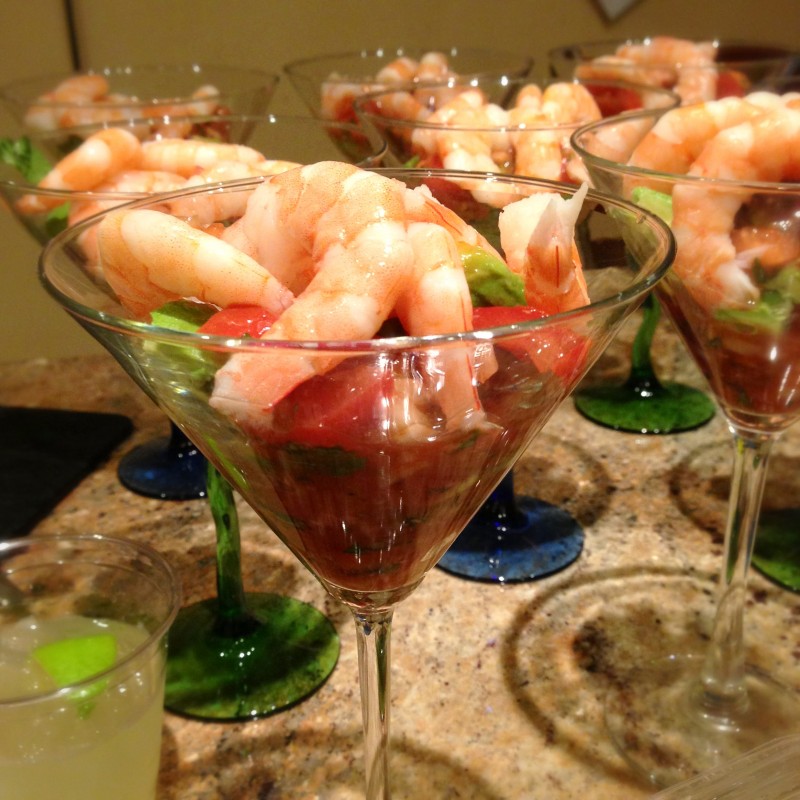 © 2012 sarabethjones. All rights reserved.
shrimp cocktail and margarita punch
Years ago I was introduced to the 12 guideposts of acting laid out by Michael Shurtleff in Audition. It's a witty, wise book, and what I love about it is that all these acting guideposts are really about the way real people behave in real life all the time.
I've gotten to teach these guideposts while working with other actors, and one of my favorites is the one called opposites. It's always fun, because you've been doing all these exercises to figure out your character, digging into who they really are by looking at all the things they say and do – and then? You come to the guidepost that basically says: given the right motivation, someone will act in exactly the opposite way that you expect them too.
Inevitably, the actors peer at me over the top of their script, shaking their heads. Wait no – that's not right. She would never do that.
But she would. It holds true in real life, just think about it. People surprise us all the time by doing something we would never expect. We look up in bewilderment and say – that's so out of character.
Maybe you've figured out where I'm headed: today is the day I do something I've never done before on this blog. Hold onto your hats – I'm posting recipes.
I actually do like to cook, especially for parties. However, most of the recipes I use either come from on Alison's wonderful blog, or in our (ahem, gorgeous) church cookbook. So when people ask me about something I've made, I usually just point them to one of those places. But, just this week for the very first time, I attempted to recreate a dish that I had eaten and loved – and it came out great. So…I thought I'd share. And, should you find yourself a wee bit thirsty as well, I've taken care of that too.
Santo Coyote Shrimp Cocktail
We love our little Santo Coyote here in NLR, and I might have a bit of a obsession with this shrimp cocktail. When my friend Donna told me how wonderful it was, I didn't believe her at first. Somehow Mexican food and shrimp cocktail didn't seem like they should be on the same menu. But friends – they should. It is OH SO RIGHT. This recipe is pretty adjustable – this amount made enough for 12 appetizer servings, but if you want your martini glasses full to the brim, I would make more of each sauce to stretch things a little.
12 martini glasses (Dollar Tree. I swear, so cute.)
2 lbs jumbo cooked shrimp (frozen from Sam's are yummy)
4 avocados
For pico de gallo; (from Pioneer Woman)
6 Roma tomatoes
1 large onion
1 bunch cilantro
1 jalapeno
juice of 1/2 lime
salt to taste
For cocktail sauce: (from Ina Garten)
1/2 cup chili sauce
1/2 cup ketchup
3 tablespoons prepared horseradish
2 teaspoons fresh lemon juice
1/2 teaspoon Worcestershire sauce
1/4 teaspoon Tabasco
Place the shrimp in a colander to thaw. Cut avocados into chunks and set aside.
Make the pico: Really, the exact measurements here aren't too important. You just want an equal amount of tomatoes, onion, and cilantro all chopped up. Once you've chopped them all, put them in a bowl, and dice a little of the jalapeno and mix it in. Squeeze the juice from 1/2 a lime over it, and salt to taste. Stir it up and taste, adjusting the jalepeno or anything else until you like it. Understand that your hands are going to smell like this for 2 days. It's worth it.
Make the cocktail sauce: Mix all ingredients and adjust to taste.
Mix the 2 sauces together, then layer them in the glasses with avocado and shrimp. Leave a few shrimp to put at the top of every glass because it looks pretty. So yummy!
Bliss's Margarita Punch
[note: you do not need a beer this big. My husband thought he was being extra funny this day…]Now, this is not a gorgeously handcrafted margarita made with fresh squeezed juices – believe me, I adore those too. This is a whole different thing: fresh and fizzy and fun – oh and EASY. People will love you if you show up with a pitcher. Bryan's sister Bliss first introduced me to these, and ever since then I've called them by her name. She's probably doesn't even realize how popular she is in central Arkansas by now…
12 oz. can of frozen limeade, thawed
tequila (enough to refill that limeade can)
1 mexican beer
12 oz. bottle of lime or orange flavored water (this is supposed to be regular water, flavored – not sparkling. However, sometimes I can only find sparkling, so I've used that too. Still good!)
1 can of diet 7up
Pour the limeade into a cute pitcher, fill the can up again with tequila and pour it in too. Notice that people are beginning to gather around you. Pour in everything else and stir. Serve in a red Solo cup over ice.
_________________________________________
Enjoy your holidays, friends!