© 2015 Sarabeth Jones. All rights reserved.
Amateur Traveler comes to Little Rock
I am such a fan of the internet, and crazy stories like this are why.
Many of you know that last year I applied and was chosen to teach a workshop on iPhone photography at TBEX in Athens, Greece. Even better, Alison met me there! I'm still reeling over that one – it was an incredible experience all the way around.
After the conference in Athens, a group of us got to travel to Meteora, Greece, sponsored by Visit Meteora – basically so that we could see the area, and then tell people about it. Meteora is simply stunning, and I'm so grateful I got to see it, even though I was a bit of an oddity on the trip. You see, most of the folks there (and at the conference in Athens) are travel bloggers – people who travel and write about it. They are a fascinating bunch; most of them travel considerably more than the average person, some are on the road nearly full time. I had so much fun talking with them about where they were from, where all they had been, where they were headed next.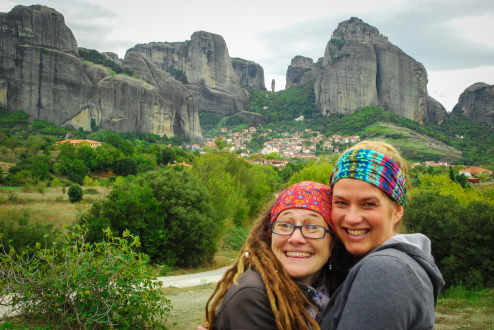 One of those people was Chris Christensen of Amateur Traveler. Based in California, Chris does a weekly podcast on travel, and when he found out that Alison & I were from Arkansas, he asked if he could talk with us about Little Rock.
So, that's how we ended up recording this a couple of weeks ago: me & my friend from Arkansas who now lives in Scotland (but who was home in AR for Christmas) talking with Chris in California whom we met in Meteora, Greece, talking about my favorite place of all: home. Crazy, right? Hope you enjoy it! I will warn you: there's lots of laughter and strong southern accents. Oh, and we may spend a little too much time talking about food. And drinks. And more food. Mmmmmmm.
Wanna know more? Links to all the places are included below the podcast.
Travel to Little Rock, Arkansas – Amateur Traveler Episode 450
Downtown Little Rock
Big Dam Bridge – you can also read about all 5 bridges in my onlyinark.com post here
River Market
Farmers Market
Flying Fish
Capital Bar & Grill
Capital Hotel
Sticky'z Rock N Roll Chicken Shack
Flying Saucer
Clinton Museum Store
Clinton Presidential Center
Forty Two
Heifer Village
Passports With Purpose
Civil Rights in Little Rock
Little Rock Central High School
Little Rock Nine
Mosaic Templars Cultural Center
Arkansas State Capitol
SoMa Little Rock
Southside Main Street District (SoMa)
South on Main
The Root Cafe
Loblolly Creamery
Esse Purse Museum
Green Corner Store
The Bernice Garden
Boulevard Bread
Community Bakery
More Yummies in Little Rock
Local Lime
Zaza
Big Orange
The Fold
Damgoode Pies
Live Music / Culture / Attractions
White Water Tavern
Tales from the South
Arkansas Repertory Theatre
Riverfest
Pinnacle Mountain
USS Razorback
Arkansas Inland Maritime Museum
River Rail
Baker House B&B
Day Trip to Hot Springs
Hot Springs – a little over an hour from Little Rock
Arlington Resort Hotel & Spa – historically maintained spa, have a bath here
Quapaw Baths & Spa – renovated spa, fabulous massages
Fordyce Bath House Museum – tour this historic bathhouse to see what the Row was like in it's heyday
Hot Springs National Park
Central Park Fusion
Rolondo's Restaurant
Duck Tours, Hot Springs
Ouachita National Forest
Ozarks and Northwest Arkansas
The Ozarks
Ponca – our favorite spot to enjoy the beautiful Buffalo River
Buffalo Outdoor Center
Hawksbill Crag
Crystal Bridges Museum of American Art – astounding art, free to the public
The Delta
Mississippi River
King Biscuit Blues Festival
Quapaw Canoe Company – magical, mystical canoe tours of the Mississippi
Wrapping It Up
North Little Rock – where Alison & I are really from!
The Old Mill – beautiful park that is in the opening credits of Gone With The Wind
K Hall & Sons – Saturday morning seafood boil
Only In Ark – great online resource for all things Only In Arkansas!