© 2013 Sarabeth Jones. All rights reserved.
Rogers, Arkansas: hip & happenin'
In August 2013, I was invited to attend a wonderful Rogers Getaway weekend. My trip to Rogers, Arkansas, was paid for by the Rogers CVB, but all opinions and recommendations are my own.
Like I said last week, there is much about Rogers that feels like a small town, homey & charming. However, this is also a city in northwest Arkansas – which means it has been greatly affected by the fact that Wal-Mart is headquartered nearby. A number things of we did in Rogers felt quite like we had stepped into a much larger city – a fun effect, like the town was full Alice-in-Wonderland doorways and you didn't ever know if you were going to walk into the local five-and-dime or a Coach store. Let me tell you about a few of the hip & happenin' sides of Rogers!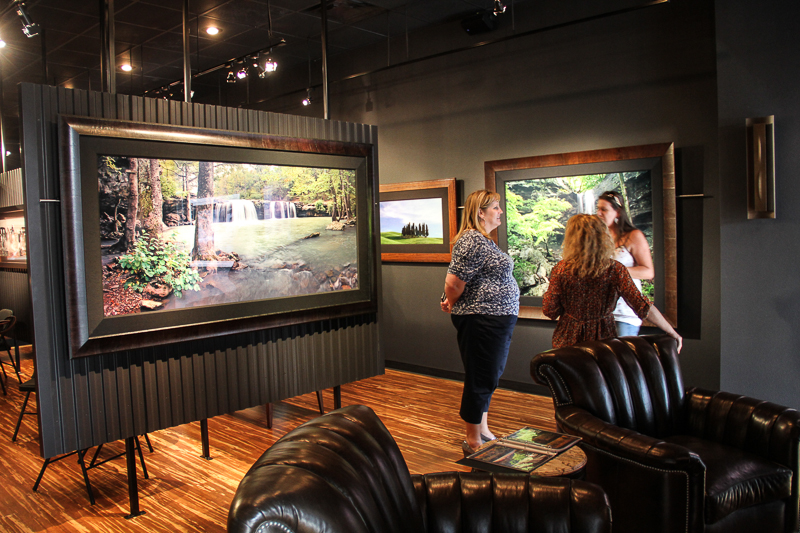 pictured :: Ed Cooley's White River Gallery
Ed Cooley's White River Gallery
Ed Cooley's was a fun surprise simply because of the amazing work we saw there. The gallery itself is sleek and clean, beautifully designed – a wonderful space to have an event. But the photographs themselves are breathtaking. I hate to be all you have to see it for yourself to believe it but in this case you really do. His website does a great job of previewing, but if you are like me you are way too used to seeing beautiful crisp images on screen for them to make a big impact. In person, though, these oversized, gorgeously saturated, crisply detailed images demand that you stand there and take them in, one by one. I kept changing which one was my favorite. I also thoroughly enjoyed talking with Ed about his process: shooting with large-format cameras with no post-processing (which only makes his captures more amazing). The gallery is open a few days a week, but will open by appointment as well, so check with them before you go. [website]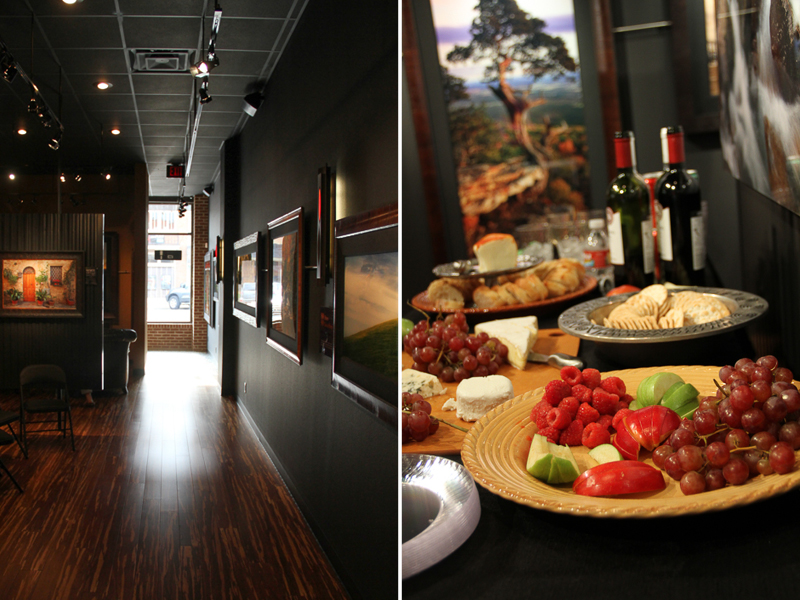 pictured :: Ed Cooley's White River Gallery
Rolando's
I don't have to say too much about Rolando's, not because it's not fabulous, but because if you've been you already know that. And if you haven't, why are you wasting your life? Seriously, this has been a favorite of mine for a loooonnng time, although I usually visit the Hot Springs location. Fresh yummy Latin food and drinks (definitely recommend the mojito or the caipirinha) – I've eaten all kinds of things off their menu and been thrilled every time. The only surprise here was that Rogers had one (yay!) and the only sadness was that central Arkansas still does not (boo). [website]
pictured :: alley door, charming stairs, twinkle lights – all at Club Frisco 
Club Frisco
We walked into this place and I thought yes, this is MY bar. Then I remembered I don't live in Rogers. Then I considered moving, so that it actually could be my neighborhood bar. I don't know what exact combination of space and decor and music and laughter it takes to make a place feel that way, but Club Frisco has it in spades. I loved the way it looked and felt (it brought to mind the word speakeasy), and then was delightfully surprised by the drinks we ordered.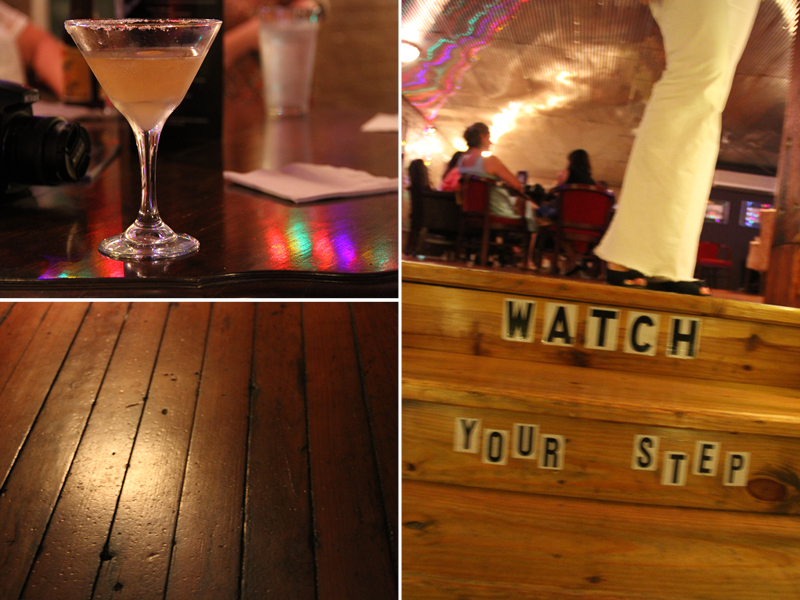 pictured :: Sidecar, Watch Your Step, worn wood floors – all at Club Frisco 
I was well into my thirties before I discovered what a wonderful thing a well-mixed drink can be, something that you sip & savor. I've been a margarita girl most of my life, and restaurant margaritas are not usually known for their subtlety and exquisite blend of flavor. A good cocktail is, and if you're not familiar, Club Frisco is a great place to start your education. [website | yelp]
Shopping at Pinnacle Hills Promenade
If you are a shopper, probably the only thing you need to do is visit the directory of stores on the mall website. You will be convinced. I have no pictures of Pinnacle Hills, because I had an hour and a gift card to spend, and no person in their right mind would waste time taking pictures in that situation. You'll just have to take my word for it that this is a lovely, HUGE, outdoor mall, with plenty of great stores (quite a few that you don't see in central Arkansas). You could definitely spend a day, maybe a weekend, exploring it all. [website]
Spa Botanica at Embassy Suites
The last morning we were in Rogers, we spent at the spa, each of us getting different treatments, and everyone gave theirs rave reviews. I had a 60 minute massage, and it was one of the best I've ever had (that makes it sound like I go all the time, I don't but I have had a few, and this one was amazing). Aside from that, the spa is simply a lovely environment to relax in: there's a whole room just to sit and be quiet in, with a fountain and candles. They also have tea, coffee, and a few light snacks out, plus lovely robes, slippers, and blankets to lounge around in. You are encouraged to stay as long as you want – and this whole part of a massage experience was new to me, usually I'm there for an appointment and then leave, or I'm doing the bathhouse thing and it's almost like a guided tour. It was really nice to be free to just relax and enjoy the surroundings before and after my massage. I will certainly go back if I have the chance. [website]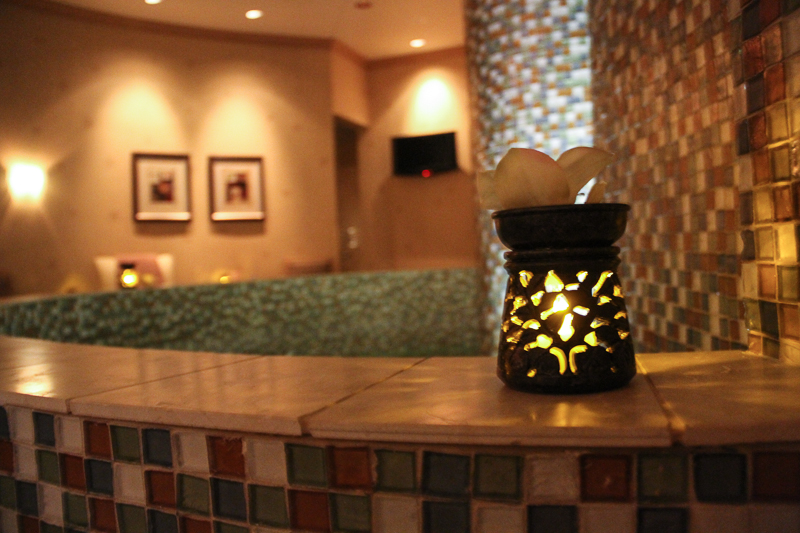 This wraps up my posting about this wonderful trip, but I'd love to answer any questions that you have about Rogers or the places we visited. Please feel free to ask, or share what your favorite thing is about Rogers! Did I miss anything?
Oh wait, there's just one thing left! Today we have a…
Daisy Red Ryder BB Gun Winner!
The randomly selected winner is…Tory Powers!
She said: Never had a bob gun growing up but my fav story involving BB guns was that every year without fail my dad would force me and my sisters to watch a Christmas story on repeat. Of all the craziness of being a kid thats one memory I'll never forget.
If I won I'd probably either keep it or give it to my baby bro since that's what "good" big sisters do 😀
I really loved the comments on that post – I should know by now that if you ask a bunch of Southerners about guns you are going to get some great stories…thanks for leaving them!
Read more about Rogers here. Or, stick around for all the good stuff and subscribe by email or RSS feed, or follow along on Bloglovin'.