© 2014 Sarabeth Jones. All rights reserved.
A day in Edinburgh, Scotland
One of the only things we had planned for sure before we headed to Aberdeen to see the Chinos was a day trip to Edinburgh. When we told Kevin of our plans (remember Kevin?) he fairly berated us for wasting our time walking in ooogly Aberdeen (that's ugly with an Irish accent) but then proclaimed Edinburgh to be a 'fairytale wonderland.' Even though I was a little miffed at him for calling Aberdeen ooogly, once I went, I had to admit he was right. Edinburgh is the first major city I ever visited in Europe, and it was absolutely lovely. A fairytale wonderland, indeed.
We looked at guides and talked about all the things we could do and see and basically settled on a couple of things to try…but mostly to just walk and take in the city. After all, even though I think Alison and I could do just about anything together and be happy just to be in the same place, we had a 17 year old girl and an 8 year old boy in tow, and we wanted everyone to have a good time. Here's what we ended up with, and it only left me wanting more. I'd love a couple of days there to linger in the many galleries and museums, or wander the Waters of Leith Walkway, a winding path along the banks of the river there.
Our day started with a train ride. Such an enjoyable way to travel. You can bring your own lunch, and cuddle with your neighbors.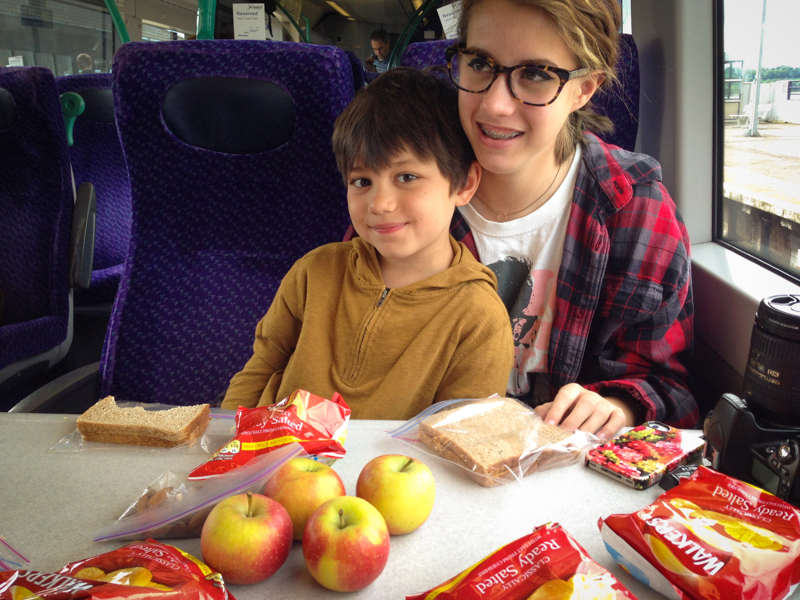 Seriously, these two and their affection for each other was one of my favorite parts of visiting our dear friends.
The first thing you see walking up out of the train station is the Scott Monument, built in honor of Sir Walter Scott. It's gorgeous all on it's own, but it's also positioned to overlook a park in the valley below, and you can see across the valley to the Edinburgh Castle atop the hill.
We headed across the park and up to the Royal Mile. I was overwhelmed by all the beautiful old buildings, everywhere you look. It was like my American brain couldn't quite take it all in, either – some part of me kept thinking we were in a very elaborate theme park.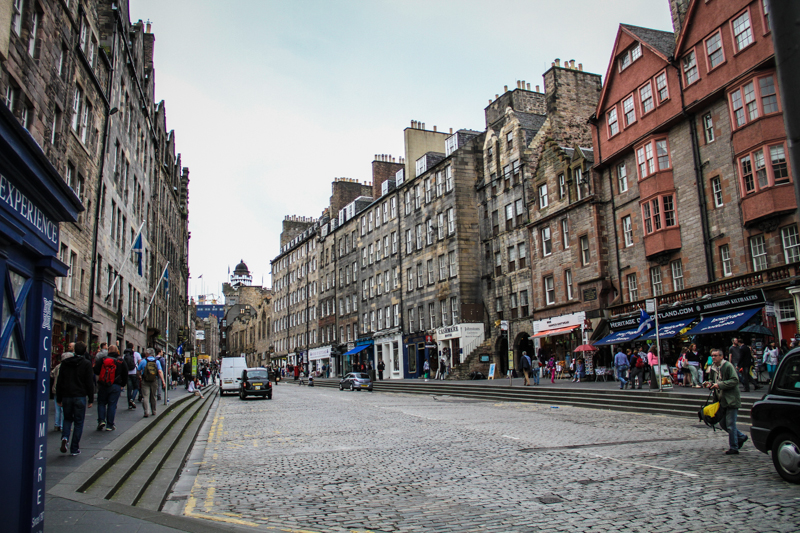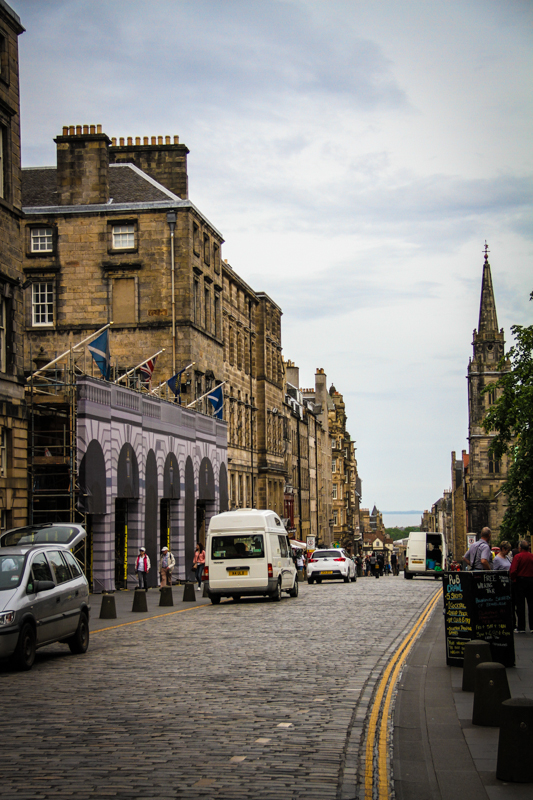 The Royal Mile makes its way up a long slow hill – there's a palace at the bottom and the aformentioned castle at the top. Not too shabby. We made our way to both ends, gawking at the bagpipe players and Braveheart impersonators and taking our pictures in the bright red telephone booths just inside the castle's outer wall.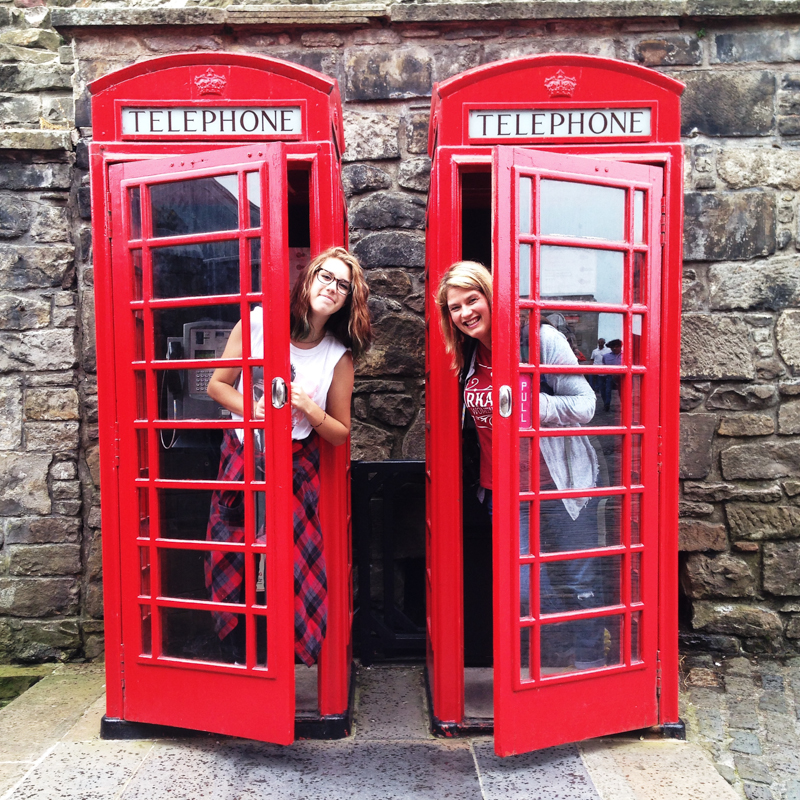 You can tour the palace or the castle along with a number of other places along the Royal Mile, but we were really interested in going in one particular building, The Elephant House – a tearoom made famous as the place where J.K. Rowling wrote the Harry Potter books. It was a perfect place to rest for a minute, have some yummy treats, and gaze at the inspiration for Hogwarts out of the back windows.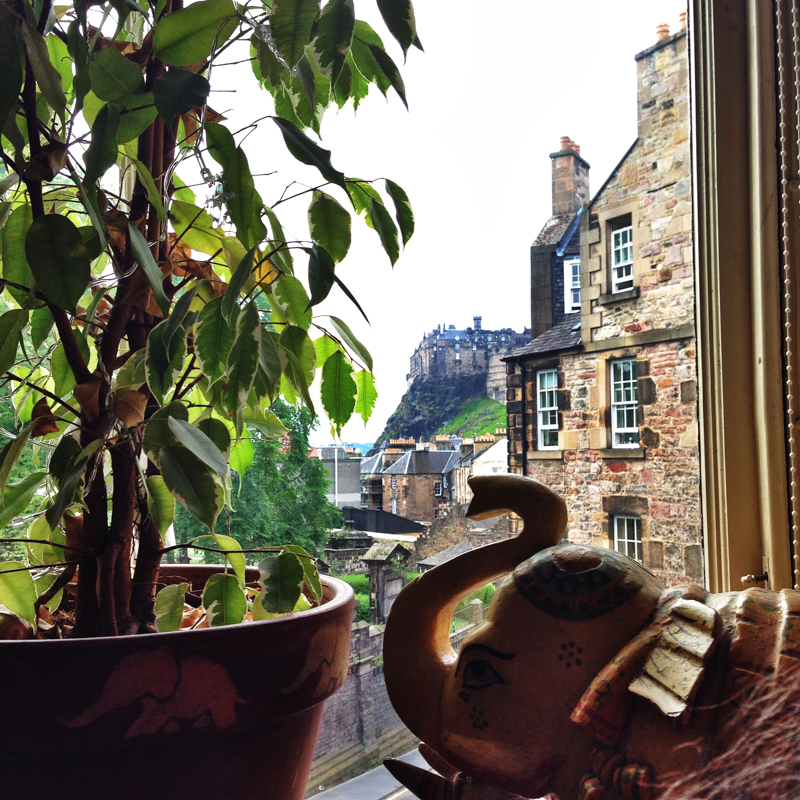 This place was so sweet: people leave letters in the drawers of a writing desk there – to the Harry Potter characters, to Rowling herself. And the bathrooms are covered, every inch of the walls, with tributes to HP. Such a tribute to the power of a great story.
Next, we decided to cross town to the Botanical Gardens so we hopped on a double decker bus and headed over.
It was beautiful and we walked and walked – especially enjoying the Queen's Garden's in the very back. We barely made it out before closing!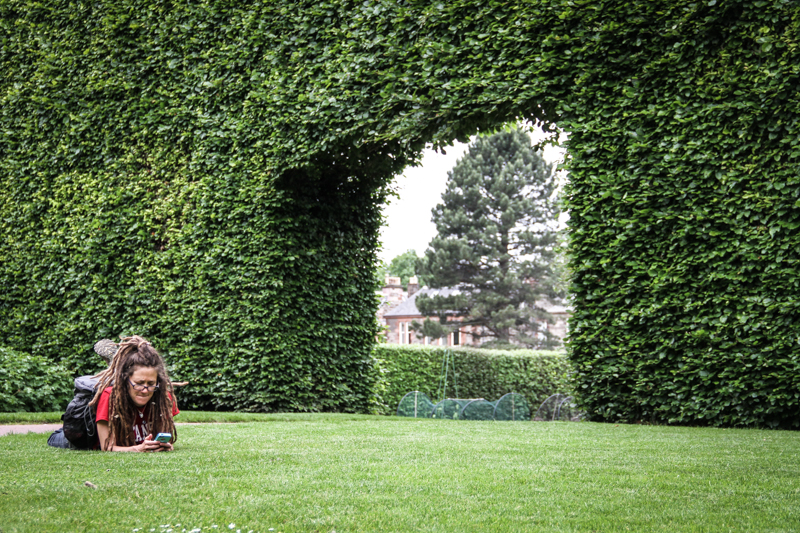 By now it was dinnertime, so we headed back toward the town center and ended the day at the Above Restaurant in the Abbottsford Bar (the restaurant is, you guessed it, above the bar) which is in a precious alley strung with bright flags. Everything tasted so good; it was delightful in the way that a meal is after walking all day. And perhaps also in the way it is when the two adults in the party split a bottle of good red wine.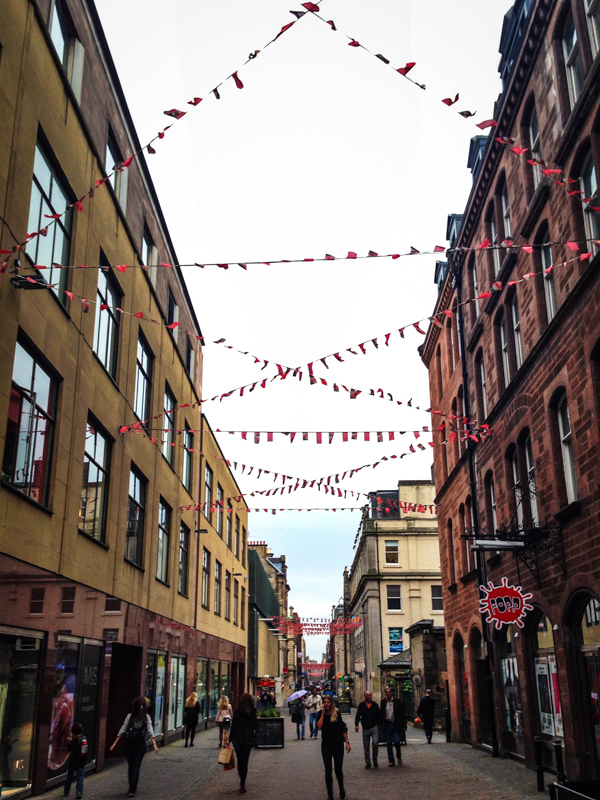 A late train home, a lovely day. And of course I have more pictures if you want to see them. They're right here!
In June of 2014, my daughter Elizabeth and I went on an absolutely incredible trip together visiting the Chinos in Aberdeen, Scotland, staying in Paris, France for a couple of days, and doing mission work in Migori, Kenya. I took a bazillion pictures and am writing about it all and you can read more posts from the trip here, if you'd like.